Date & nut cookies. Pretty. Ugly. Yummy.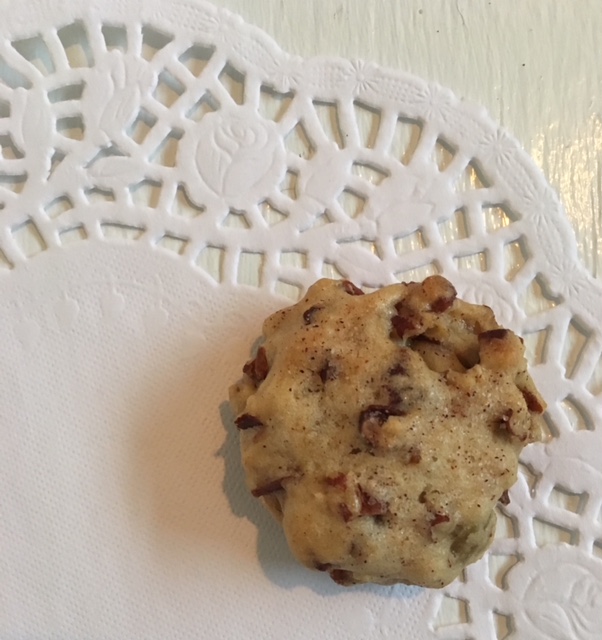 A tasty dose of dried fruit adds sweetness to these moist, cakey goodies. I switch up the fruit and sometimes add candied ginger for a sweeter taste.
Makes about 60
2 cups all-purpose flour
2 t baking powder
3/4 pound dates, pitted and roughly chopped
2 cups pecans, roughly chopped
1/2 cup dark raisins
1/2 cup golden raisins
1/2 cup dried cherries
3 large eggs
1/2 cup PLUS 2 T sugar
2/3 cup vegetable oil
2 T fresh lemon juice
2 t pure vanilla extract
1/2 t salt
1/2 t ground cinnamon
Preheat oven to 350.
In a medium bowl, whisk together flour and baking powder.
Add dates, raisins, pecans, and cherries.
Stir with a wooden spoon until fruit and nuts are coated.
In a small bowl whisk together eggs, 1/2 cup sugar, oil, lemon juice, vanilla, and salt.
Add the flour mixture and stir until combined.
In another small bowl, stir together 2 T sugar and the cinnamon.
Drop dough by rounded tablespoon 1″ apart on parchment-lined baking sheets.
Sprinkle with the cinnamon sugar.
Bake until golden at edges, about 15 minutes. Rotate sheets halfway through.
Transfer to a wire rack to cool.
🙂