Simon & Garfunkel would love this soup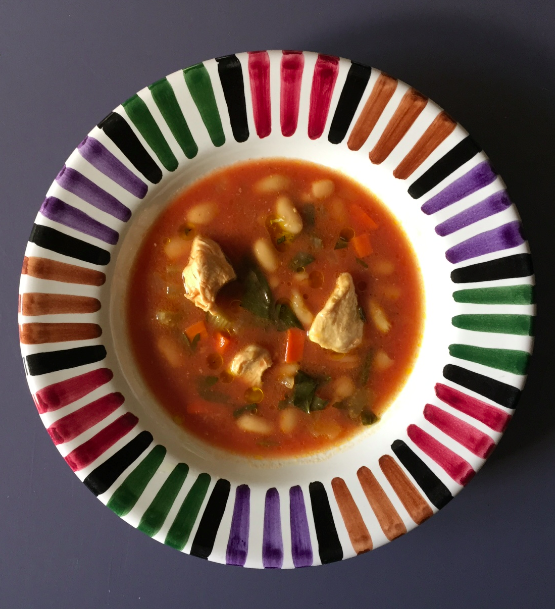 Chicken and Bean Soup with Three Herb Oil
There is something magical about cooking with herbs this time of year, and it has been a good growing season for my perennial favorites parsley, sage, rosemary, and thyme. This recipe uses them all.
It's quick enough for a Tuesday night or fit for company. Serve with garlic toast and don't forget to pass around plenty of Romano cheese.
Serves 4 to 6
Soup
1 1/2 LB skinless boneless chicken breasts, cut into bite-size pieces
2 celery stalks, sliced
1 small onion, chopped
2 – 3 medium carrots cut into small pieces
1 cup tomato puree
4 cups chicken broth (I use Better Than Bouillon brand)
2 15-ounce cans cannellini beans drained
1/2 cup fresh Italian parsley
Saute chicken in a bit of olive oil in a large pot over medium heat about 5 minutes.
Transfer chicken to a bowl.
Add a little more olive oil to the pot and cook celery, onion, and carrots until just tender and beginning to brown (about 10 minutes).
Add tomato puree, broth, cannellini beans, and parsley.
Add chicken.
Bring to boil, and then simmer for around 10 minutes.
Season with salt and pepper. (Test first, you don't want it to be too salty.)
Ladle into bowls and add herb oil by swirling on!!
Herb Oil
This stuff is the bomb, swirl it on the soup and then make more to dip bread or whatever else you can think of.
10 tablespoons good extra-virgin olive oil
3 teaspoons chopped fresh sage
3 teaspoons chopped fresh thyme
2 or 3 teaspoons fresh chopped rosemary
1/4 to 1/2 teaspoon salt
Heat oil, herbs, and salt over medium heat until you can smell the greatness.
About 2 minutes. Cool.