Creamy Kale, Sausage, & Sun Dried Tomatoes Penne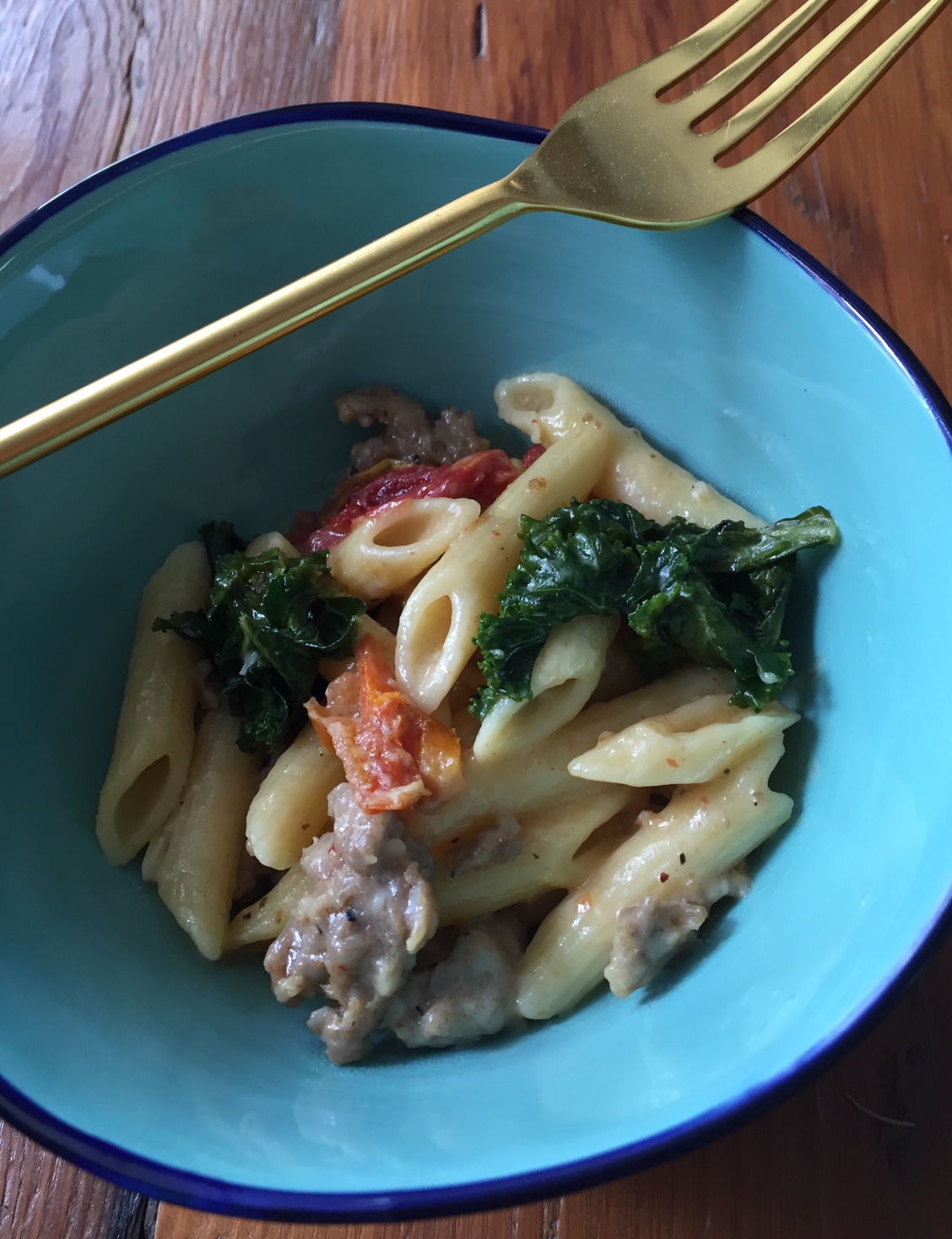 It's mid-October and getting colder and it is raining, and when it's like this I love to look at all the interesting colors outside and cook a dinner that's warming on the inside.

This recipe seems made for this weather, really pretty to look at and is so easy every time I make it it turns out exactly the same, delicious.
Creamy Kale, Sausage, & Sun Dried Tomatoes Penne
Serves 5 or 6
1 pound penne pasta – cooked and drained (with 1/2 cup of pasta water reserved for the sauce)
1 lb Italian pork sausage
1 package sun dried tomatoes, julienne cut
2 cloves garlic, minced
1/3 cup Pinot Grigio
1/2 cup chicken broth
1 small bunch of kale, thick ribs removed and chopped (about 4 cups)
2 T unsalted butter
3 T all-purpose flour
1 1/3 cup whole milk
1/3 cup heavy whipping cream
1/3 cup shredded parmesan cheese
Put cooked pasta in large serving bowl.
Cook sausage in a large skillet with a bit of olive oil breaking up larger pieces with a wooden spoon until no longer pink, about 5 minutes.
Add the sun dried tomatoes and garlic and saute one minute.
Remove from heat and add the Pinot Grigio and scrape any brown bits from the bottom.
Return to heat and add chicken broth and kale, continue until kale is wilted and tender- about 5 minutes.
Season with salt and pepper and add sausage kale mixture to cooked pasta, cover to keep warm.
Add flour and butter to same skillet and whisk to make a roux.
Slowly add milk and whisk to smooth lumps, add whipping cream and parmesan to finish sauce.
(add some of the reserved pasta water to smooth sauce if necessary, I never have to)
Pour sauce over pasta mixture and toss with tongs to combine.
We always have some leftover to heat up for lunch and sometimes I add a bit of pasta water to this!