Grandma's Sunshine Cookies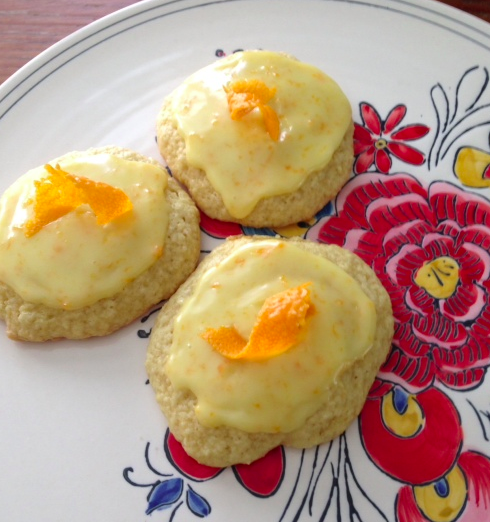 I can still picture my Grandma Martha's pies, cookies and cakes cooling in her bright tiny kitchen. She never used a mixer, she keep everything simple.

This cookie recipe was served mostly for special occasions, pretty, easy, yummy.
Grandma Martha's Sunshine Cookies
1 cup of sugar
1/4 cup unsalted butter (room temp)
1 large egg (room temp)
1/2 tsp baking powder
1/2 tsp salt
2 1/4 cups flour
1/2 cup milk
1/2 tsp baking soda
zest from 1 orange
juice from 1 orange
Cream sugar and butter in a bowl, add egg and mix well.
Add dry ingredients: flour, baking powder, and salt.
Mix milk, baking soda, orange juice and zest in a small bowl
– add to mixture.
Drop by tsp on a parchment-lined cookie sheet and bake at 275 for 15-20 minutes. (Watch after 15.)
Cool, ice, enjoy!
Sunshine Icing
1 cup confectioners sugar
Juice and zest from 1/2 orange
Note: you can substitute lemon, I would do 1 or 2 lemons for cookies and 1 lemon for icing.