low country boil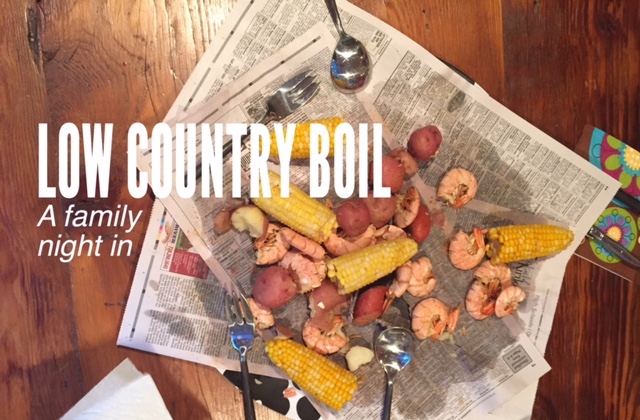 When Dave and I want the kids to come running home for a family evening of games and dinner, this no-frills meal is sure to get them there. We have a couple of favorites but the recipe we decided on is Dave's specialty (and who am I to argue, I can sit back have a glass of wine and watch the cook)!
Low Country Boil
Serves 8 to 10
One cup of Old Bay spice
3 or 4 pounds small to medium red potatoes
8 ears of corn cut in half or thirds
2 1/2 pounds smoked kielbasa
4 pounds large shrimp, shells on
Add 2 1/2 gallons of water to a really big pot, (ours is 20 quarts) put on the stove
and bring water to a boil.
Add 1/2 cup of Old Bay, then slowly add the potatoes.
Cook 10 minutes.
Add the kielbasa and corn.
Cook 10 minutes more, add 1/4 cup of Old Bay.
Last, add the shrimp, stir.
Cook till shrimp is just pink- about 4 minutes.
Prepare a serving platter with newspaper and with a large skimmer or slotted spoon.
Place all on platter- Careful!!!
Sprinkle remaining Old Bay over everything.