Chicken Curry with Sweet Potatoes and Coconut Milk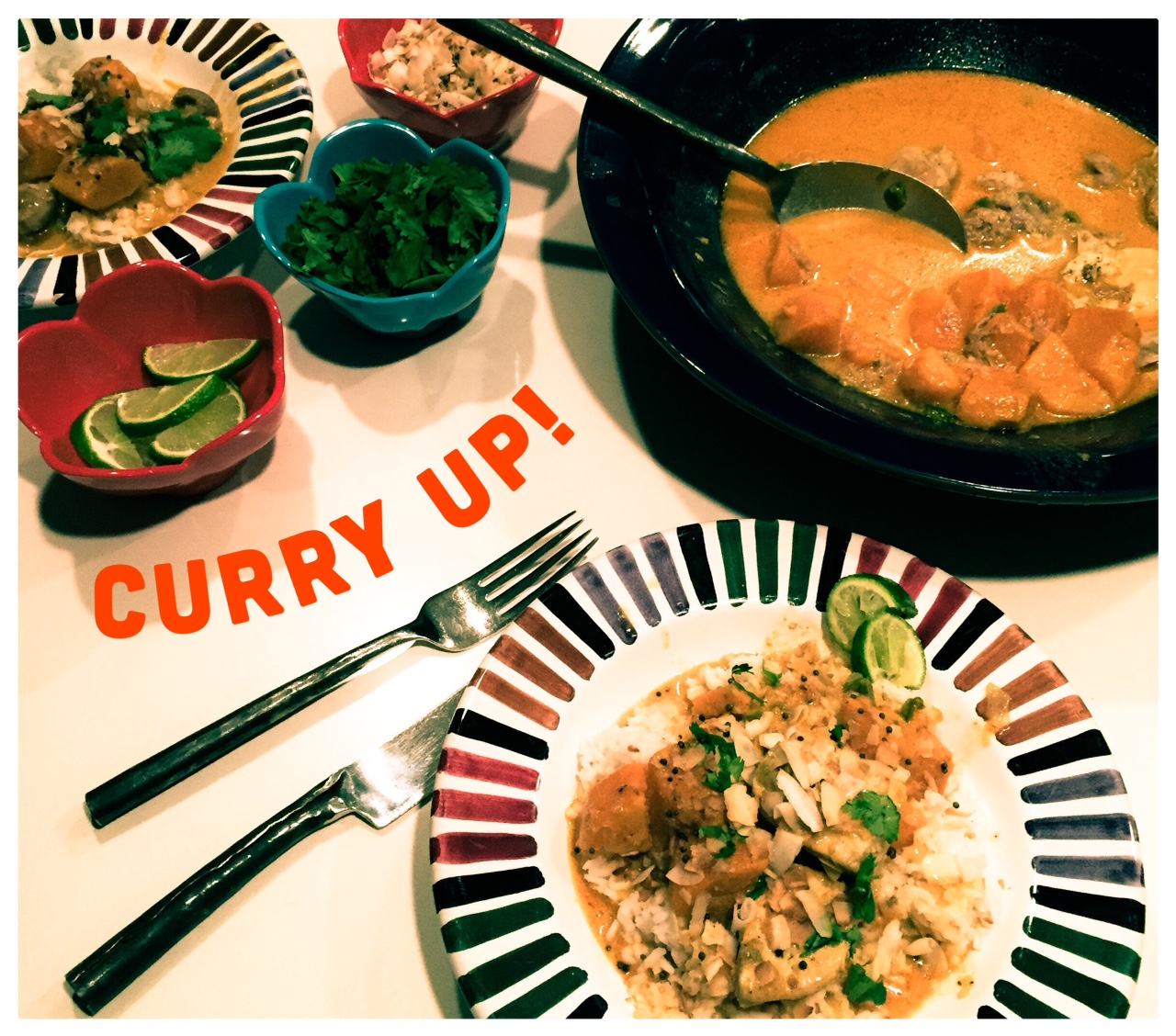 January was a month of recipe testing, looking for the fresh and healthy, and moving in new directions. Chicken Curry with Sweet Potatoes and Coconut Milk a recipe shared in The New York Times by Melissa Clark was my winner.
After making this aromatic dish a couple of times, and with a modification or two I am now hooked on all things curry. And as serendipity goes, a gift from my husband -the cookbook Jamie's Food Revolution, by Jamie Oliver devotes a chapter on curries and I am loving every one.
But for now, here is my take on Melissa Clarks dish.
Chicken Curry with Sweet Potatoes and Coconut Milk
Serves 4 generously
Start to finish – 1 hour 20 minutes
about 3 pounds boneless skinless chicken breasts, cut in 3-4 pieces each
kosher salt
pepper
2 T safflower or vegetable oil
1/2 cup chopped scallion
1 1/2 fresh ginger peeled and grated
2 garlic cloves, finely chopped
1 or 2 jalapeno peppers (to taste) seeded and finely chopped
2 T red curry paste
1 can (15 1/2 oz) can coconut milk
2 med sweet potatoes peeled and cut into 1 1/2'' chunks
2/4 cup unsweetened coconut flakes
1 T black or brown mustard seeds
fresh cilantro leaves
lime wedges
Heat oven to 325 Season chicken with salt and pepper.
In a large dutch oven over medium-high heat- brown chicken in oil, in batches if necessary. about 5-6 minutes per batch. Transfer to a plate.
Stir scallion, garlic, ginger, and chilies into pot, reduce heat to medium. Cook until soft about 1-2 minutes. Stir in curry paste cook 1 minute more. Stir in coconut milk and add sweet potatoes.
Arrange chicken pieces on top of potatoes, pour enough water to come halfway up the sides of chicken. Bring to boil, cover pot and place in oven. Bake until chicken is cooked through, about 35 minutes.
Meanwhile in a dry skillet over medium heat, toast coconut until golden, 2-3 minutes. Add mustard seeds and toast until they begin to pop! Transfer to bowl, add a pinch
of salt.
Transfer chicken and potatoes to platter. Return Dutch oven to stove and simmer over medium-high heat until cooking liquid has thickened to a sauce like consistency, about 5 minutes. Pour over chicken and potatoes. Sprinkle with coconut mixture. Serve with cilantro and lime wedges.
Jamie Oliver's book Jamie's Food Revolution is available at
http://www.amazon.com/Jamies-Food-Revolution
Melissa Clark recipes and others at The New York Times Cooking can be seen by signing up to the NYTimes Cooking newsletter online