Tomato Jam & Cornmeal Cookies.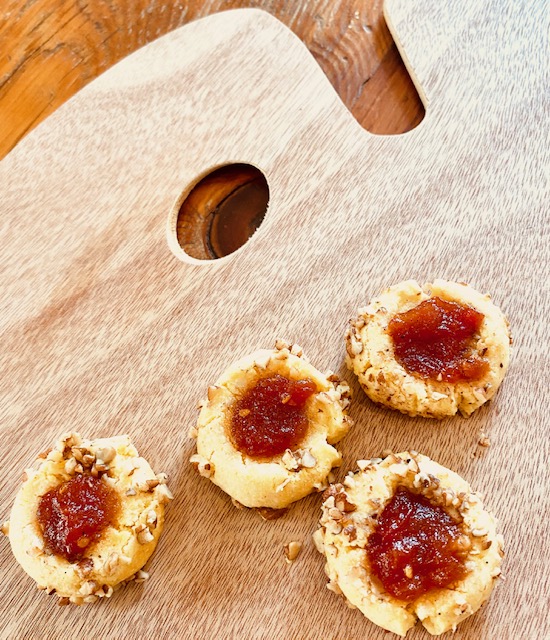 This clever take on a dessert cookie can be served with wine, tea or add them to your August dinner party table.
Jam.
2 lb assorted tomatoes
1 cup sugar
.25 cup apple cider vinegar
1 T orange zest
3 T orange juice
1 T grated fresh ginger
2 t sea salt
1 t ground coriander
4 whole cloves
Add tomatoes to boiling water for one minute to loosen skins, plunge into ice water to stop cooking.
Peel core and chop and place in a saucepan.
Stir in sugar and next 7 ingredients, bring to boil then reduce heat and simmer for 40 minutes or until thick.
Remove from heat and discard cloves.
Mash to desired consistency, using a potato masher. Cool.
Keep in an airtight container for up to one month.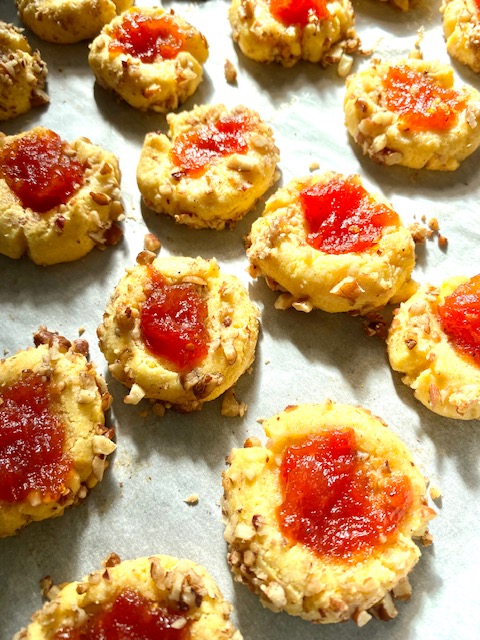 Cookies.
.5 cup softened butter
.5 cup powered sugar
1 egg separated
1 t vanilla extract
.75 cup flour
.75 plain yellow cornmeal
.5 t salt
.25 t ground nutmeg
.5 cup chopped pecans
.5 cup tomato jam
Beat butter and powdered sugar on medium speed with an electric mixer until pale and fluffy. Add egg yolk and vanilla beat until just blended.
Stir flour and the next 4 ingredients in a small bowl, and gradually add to the butter mixture. Don't over mix.
Turn out to a floured surface and knead 3 or 4 times, shape into a 1-inch thick disk. Wrap in plastic wrap and chill for 2 to 24 hours.
Preheat oven to 350, Shape chilled dough into 1-inch balls, lightly beat egg white, and put pecans in a small bowl.
Dip and roll and place on a parchment-lined baking sheet. Press thumb to each forming an indentation.
Bake for 10 minutes. Remove from oven, press again (with the back of a spoon so you don't get burned), and add .5 t of jam to each.
Bake another 8 minutes until golden.
Cool.