Tea Cakes & Pixie Pies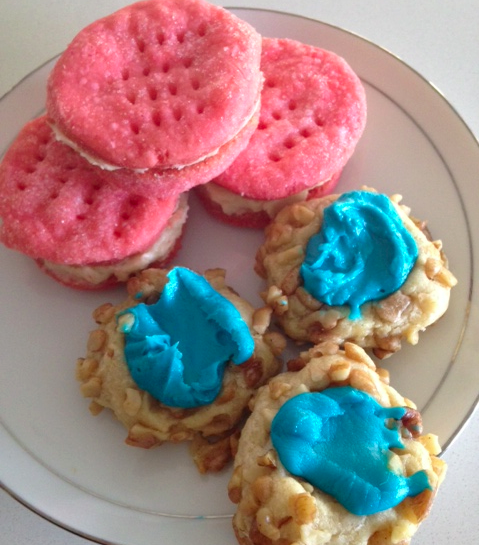 My Grandma Martha's tea cakes and pixie pies were almost always served with the sunshine cookies and mostly around holidays.
The tea cakes are my all-time favorite cookies, as an adult, I noticed everyone called these little gems "thumbprint" cookies, but they will always be tea cakes to me, and I think better!
Again, you don't need anything fancy to make these. Not even a mixer.
Tea Cakes

1/2 cup butter (room temp)
1/4 cup packed dark brown sugar
1 large egg separated (room temp)
1 tsp vanilla
1 cup flour
1/4 tsp salt
3/4 to 1 cup chopped nuts (I like pecans, but whatever!)
Mix softened butter and brown sugar in a bowl.
Add egg yolk, and vanilla. Mix well.
Add flour and salt.
Roll into balls.
Meanwhile, beat egg white with a fork till foamy.
Dip balls into egg white, roll into nuts.
Place on a cookie sheet and press thumb into the center of each cookie.
Gentle!
Bake 350 for 10- 12 minutes until set.
Fill cookies with your favorite jelly or use buttercream icing. (pictured)
Makes roughly 2 dozen cookies.
.
Butter Cream Icing
(can be adjusted for taste)
3/4 cup soft butter
1 cup powdered sugar
1 tsp vanilla
Cream all ingredients, may need a little more butter or sugar depending on your personal taste.
Tint with food coloring.
Pixie Pies
1 cup butter (room temp)
1/3 cup whipping cream
2 cups flour
Food coloring
Sugar for coating
Mix butter, whipping cream and flour thoroughly, tint to your favorite color, pat into a disk and chill one hour.
Roll dough 1/8 thick on a lightly floured surface.
Cut into 1 1/2'' rounds.
Press both sides with sugar. (I put a little sugar in a shallow bowl.)
Place on a parchment-lined baking sheet, and prick in 4 places with a fork.
Bake 375 for about 7 minutes or until slightly puffy.
Makes about 2 1/2 dozen cookies.
Put 2 cooled cookies together with buttercream icing. (Recipe above.)