Mangia- Lasagne Grandma's way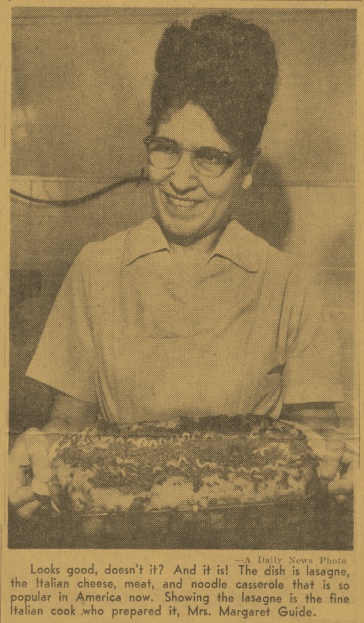 Way back, my Grandma Guide owned a bar in McKeesport PA called the Terminal Cafe. Not because of the man who died while eating a plate of spaghetti, but because the train station was next door! I guess it was a happening place, everyone went there. As the legend goes the dancer Gene Kelly and his partner danced on the bar for money.
This is her recipe for lasagne and is in my "Cook till I drop Sunday" rotation. Everyone then and now is crazy about it.
Lasagne, Grandma's way
Start with a pot of your best sauce, I work with warm sauce.
1 1/2 to 2 lb. ground round browned in a skillet.
1 lb. lasagna noodles cooked around 10 minutes, do not overcook!
1/2 lb. provolone cheese or 12 slices.
1/4 to 1/2 lb. good mozzarella cheese.
1 lb. ricotta.
Grated romano or parmesan cheese.
Use a shallow baking dish, one you can carry to the table.
(My Grandmas words!)
This recipe fits well in a 10 x 14 casserole.
Start with a nice layer of sauce on the bottom, then add 3/4 of the
browned beef.
Layer of noodles.
A little more sauce then layer all of the ricotta.
Layer of noodles.
Sauce and the 12 slices of provolone.
Layer of noodles.
Sauce and layer all the mozzarella most of the remaining meat and some grated cheese.
Layer of noodles.
Top layer with sauce and cover with a good amount of grated cheese and sprinkle with remaining meat.
Bake at 350 uncovered for around 30 minutes.
Let stand covered at least 20 minutes.
Serves 10 – 12.