You Gotta Ricotta Cake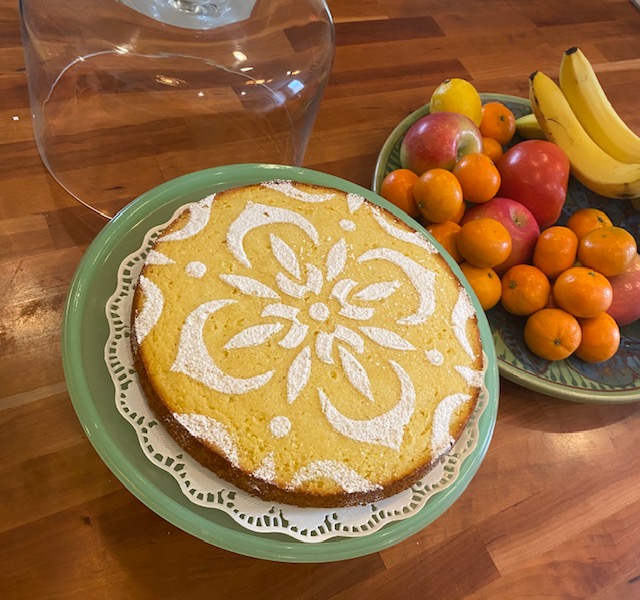 This cake is both elegant enough for company and easy enough for a weeknight. I think the secret to making this cake (or cookie) great is to mix the ricotta into the wet ingredients really well, that's what makes it light. Also, I swapped out a bit of the flour for fine cornmeal and that is in this recipe, you don't have to.
Oh! I was looking for a simple way to apply a powdered sugar design for the top when Dave said he had an unused floor stencil. It worked PERFECT.
LEMON RICOTTA CAKE
3/4 cup unsalted butter room temp (plus a bit more to grease pan)
1 cup sugar
3 room temp eggs
zest of 2 lemons and juice of one
1 1/2 cup whole milk ricotta cheese at room temp
3/4 cup all-purpose flour
1/2 cup fine cornmeal
2 t baking powder
1/2 t sea salt
Powdered sugar for dusting
Preheat oven to 350
Place a round of parchment paper on the bottom of a 9″ round springform pan and butter both the sides and bottom.
In a large bowl add butter and sugar. Beat on med speed until fluffy. Add the lemon and zest.
Add the eggs one at a time and beat between each egg.
Add the ricotta cheese mix really well.
In a separate bowl mix flour, cornmeal, baking powder, and salt. Slowly mix together then add to wet ingredients until just together.
Place batter into pan and bake for 45 minutes or until a toothpick comes out clean.
(The cake should be golden brown on the edges)
Cool fully on rack before removing the ring.