Julie's Apricot Almond Galette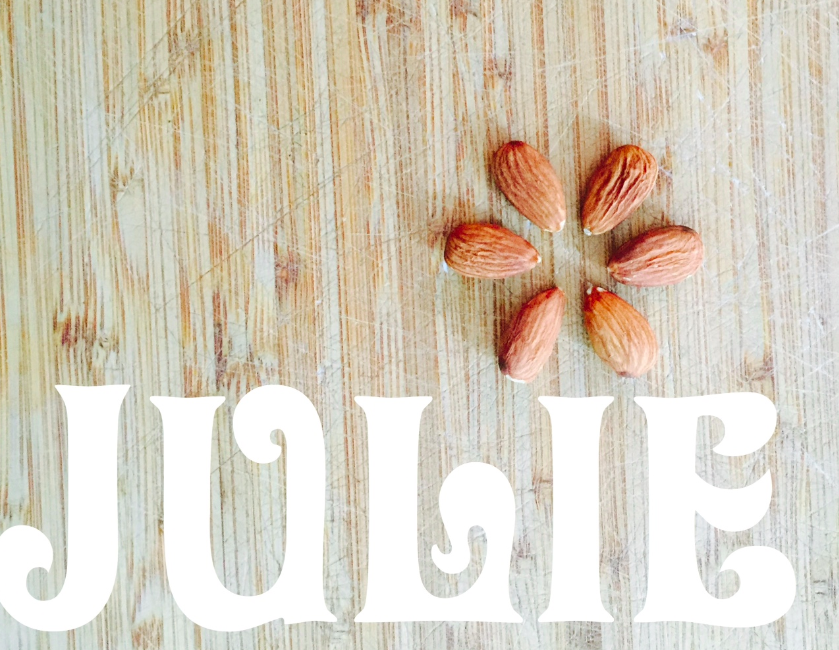 How I love your galette. Apricot almond to be exact. When the guests are all fighting to get to the dining room you know are at Julie and Pete's house for a foodie feast.
Everything from spring rolls, mushroom pate and meatballs in saffron sauce to this wonderful dessert. Please, please never stop the madness!
Apricot Almond Galette
Almond Galette Dough
1 large egg yolk
½ teaspoon real almond extract
½ cups sliced almonds
2 cups all-purpose flour
3 tablespoons sugar
¼ teaspoon salt
¾ cup cold unsalted butter, cut into small pieces
2 tablespoons cream cheese
4-6 tablespoons ice water
In a bowl, whisk together the egg yolk and almond extract. In a food processor, finely grind the almonds. Add the flour, sugar and salt and pulse until combined. Add the cream cheese and pulse until the mixture resembles coarse sand. Add the egg yolk mixture and pulse to combine. Transfer the mixture to a large bowl and using a fork or pastry blender, stir in 4 tablespoons of the ice water until the dough holds together in a ball. If the dough does not hold together when pinched, stir in remaining ice water, 1 tablespoon at a time. Gather the dough into a ball and shape into a disk on a piece of plastic wrap, seal tightly and refrigerate for at least 1 hour or up to 2 days. Dough makes one 10" galette.
Apricot Filling
1 ½ pounds ripe apricots
1 tablespoon fresh lemon juice
Lemon zest – to taste
½ cup sugar
All- purpose flour
½ cup apricot preserves
1 large egg
3 tablespoons sliced almonds
Preheat oven to 375. Line a rimmed baking sheet with parchment paper. Halve, pit and thinly slice apricots, then add them to a bowl with the lemon juice, sugar and lemon zest — about ½ – ¾ teaspoon is nice. Toss to coat the apricots and set a side.
On a lightly floured surface, roll out the dough into a 15 – 16" round about ¼" thick. Fold the dough over the rolling pin and carefully transfer to the prepared baking sheet. The dough may hang over the sheet at this time — this is okay. Spread the preserves (or jam) over the dough, leaving a 3" border uncovered all around, then arrange the apricots evenly on top of the preserves. Fold the dough edges over the apricots, making loose pleats. The center should be open and the apricots visible.
In a small bowl, whisk together the egg and 1 tablespoon water. Brush the dough with the egg mixture and sprinkle with the sliced almonds.
Bake the galette until the dough and almonds are evenly browned and the apricots are tender — about 35-45 minutes. Let cool on a wire rack.
When cooled completely, transfer to a serving platter or cutting board, cut into wedges and serve. Vanilla ice cream or gelato is a nice accompaniment.
Serves 6-8
Note: Any stone fruit will work nicely, peaches, plums…