It's cake o'clock somewhere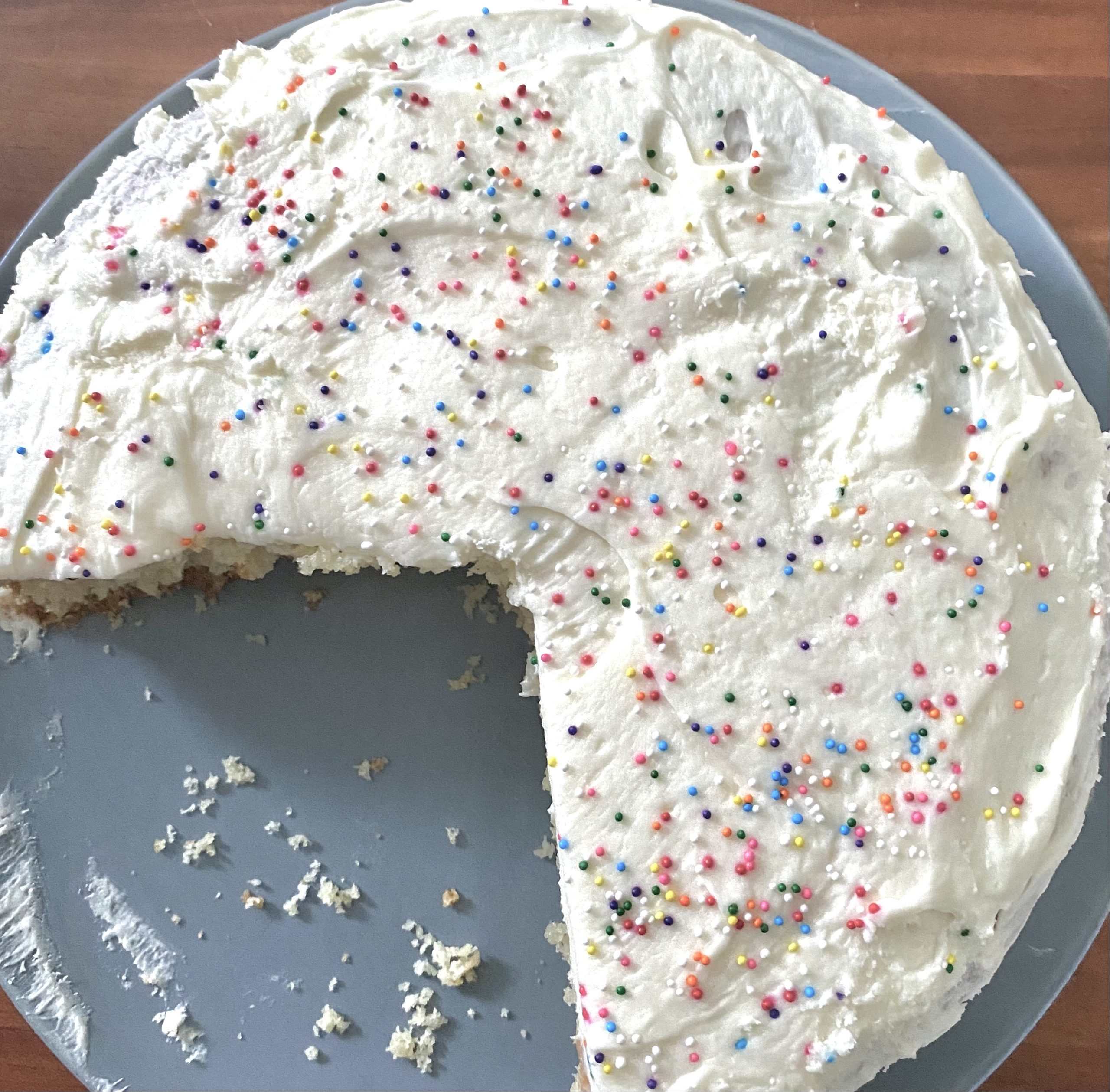 This single-layer round cake adapted from bon appétit is the perfect centerpiece for birthdays, dinner parties, or any occasion worth celebrating, and the absolute best vanilla cake I can whip up!
CAKE
⅔ cup vegetable oil, plus more for the pan
1¾ cups all-purpose flour, plus more for dusting
1 cup granulated sugar
1¾ tsp. kosher salt
1½ tsp. baking powder
½ tsp. baking soda
2 large eggs
¾ cup sour cream
2 Tbsp. fresh lemon juice
1 Tbsp. vanilla extract
¼ tsp. almond extract
FROSTING
2 oz. cream cheese, room temperature
1½ sticks of unsalted butter, room temperature
2 cups of powdered sugar, divided
½ tsp. kosher salt
1 tsp. fresh lemon juice
1 tsp. vanilla extract
Sprinkles (for decorating; optional)
Step 1
Place a rack in the middle of the oven; preheat to 350°. Grease the bottom of a 9″-diameter cake pan with oil and line with parchment paper round. Grease parchment paper and lightly dust with flour, tapping out excess.
Step 2
Whisk 1¾ cups all-purpose flour, 1 cup granulated sugar, 1¾ tsp. kosher salt, 1½ tsp. baking powder, and ½ tsp. baking soda in a medium bowl to combine.
Step 3
Whisk 2 large eggs, ¾ cup sour cream, ⅔ cup vegetable oil, 2 Tbsp. fresh lemon juice, 1 Tbsp. vanilla extract, and ¼ tsp. almond extract in a large bowl until combined and smooth. Add dry ingredients all at once and gently fold in with a rubber spatula just until incorporated and the batter is smooth (do not overmix).
Step 4
Scrape batter into prepared pan and spread evenly. Bake cake until golden and a tester inserted into the center comes out clean, 30–35 minutes. Transfer pan to a wire rack and let the cake cool in the pan for 30 minutes. Invert cake onto rack and unmold; carefully remove parchment paper. Let cool completely.
FROSTING AND ASSEMBLY
Step 5
While the cake is cooling, using an electric mixer on medium speed, beat 2 oz. cream cheese, room temperature, and 1½ sticks unsalted butter, room temperature, until fluffy, about 2 minutes. Stop the mixer and add 1 cup powdered sugar, sifted, 1 tsp. kosher salt, 1 tsp. fresh lemon juice, and 1 tsp. vanilla bean paste or vanilla extract. Beat on low speed until incorporated, about 1 minute. Beat in remaining 1 cup (110 g) powdered sugar, sifted, until incorporated and the frosting is lump-free about 1 minute.
Step 6
Place the cake, right side up, on a cake stand or large plate. Mound frosting on top and spread over the surface, leaving a ½" border around the edges. Using an offset spatula or a large spoon, make decorative swirls, swoops, and divots in frosting if desired. Top with sprinkles (if using).