good girl!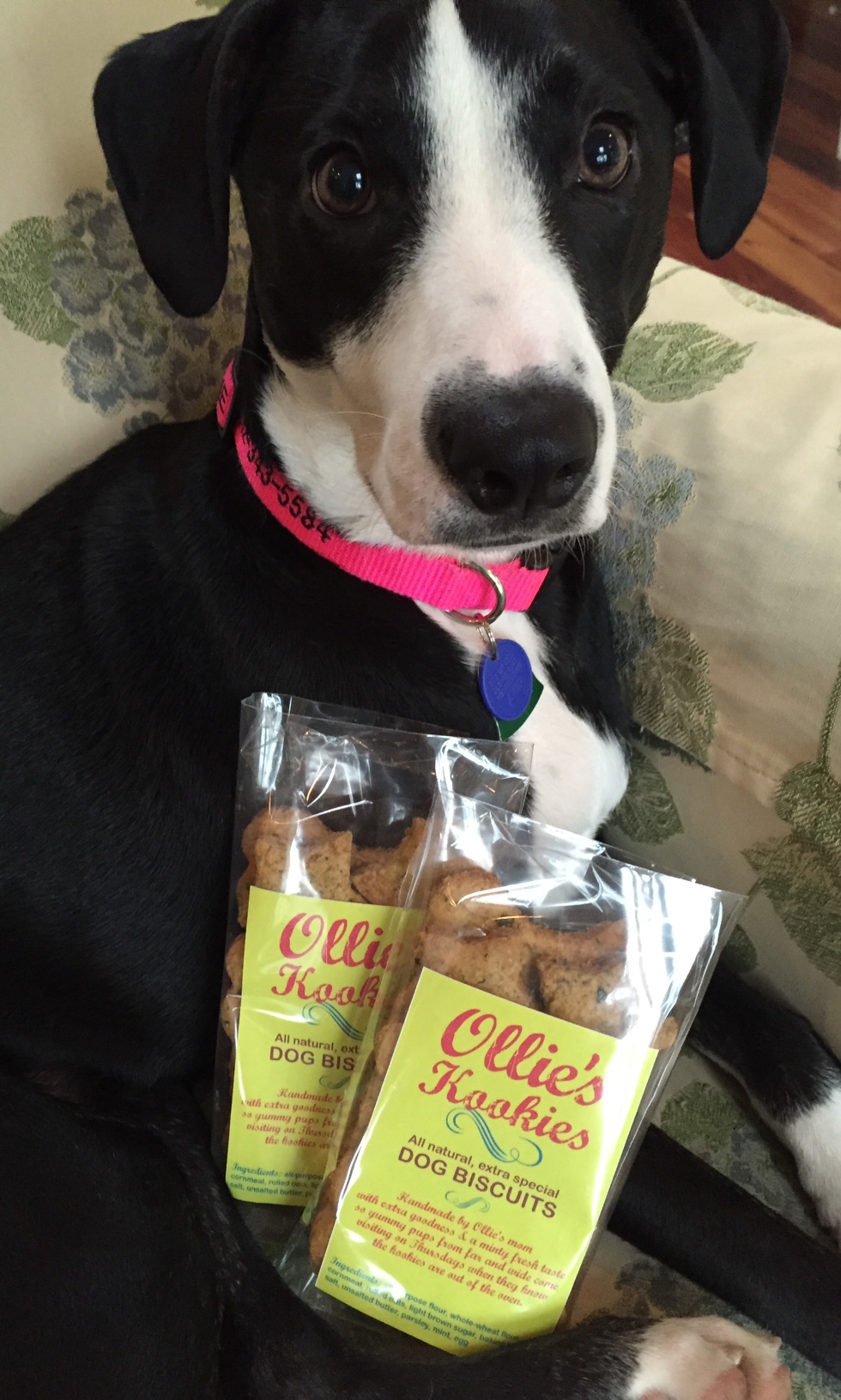 It's not often my design world & baking world unite, but in this case, it was an act of love. Ollie, one of the dogs in my life inspired these biscuits named Ollie's Kookies.
Of course, she supervised the baking and had the final sign off on the label design! We give them out as presents to her friends and sell them around town.
If you want to make them for your pups, here's the recipe. I have been perfecting it for a while now, pumpkin out, brown sugar in, more whole-wheat flour, less salt, of course, there are fresh herbs. I use a bone shape and a star-shaped cookie cutter.
Ollie's Kookies
Ingredients:
1 1/2 cups old-fashioned rolled oats
1 1/4 cups all-purpose flour
1 1/4 cups whole-wheat flour
1 1/4 cups cornmeal
3/4 cups packed brown sugar (light or dark)
1 T baking powder
1 1/2 t salt
1 stick cold unsalted butter, cut into pieces
1 1/4 cup water
1 egg
1/2 cup fresh mint leaves chopped
1/2 cup fresh parsley leaves chopped
1 egg for wash
Heat oven at 350 with racks in upper and lower thirds, grease 2 – 3 baking sheets.
Pulse the first seven ingredients in a food processor, add butter, mint, parsley, and pulse until the mixture resembles a coarse meal with pea-size butter bits. Add water, egg, and pulse until a coarse dough forms.
Turn out and half dough to form two flattened disks.
Turn onto a floured surface and roll out to 1/3" thick with a rolling pin. (If dough becomes soft and sticky, put back into plastic and chill)
Cut as many biscuits as possible, gather scraps and reroll. Repeat until all the dough is cut. Place 1/4" apart on sheets as you go.
Mix egg and 1 T water in a small bowl and brush biscuits with egg wash mixture.
Bake 30 – 35 minutes until tops are golden, switching the position of sheets halfway.
Turn off oven and dry biscuits in oven overnight.
Biscuits will keep in an airtight container at room temperature for one month.


Getting some Ollie's Kookies in the oven with a little help from quality control.