COFFEE SOUP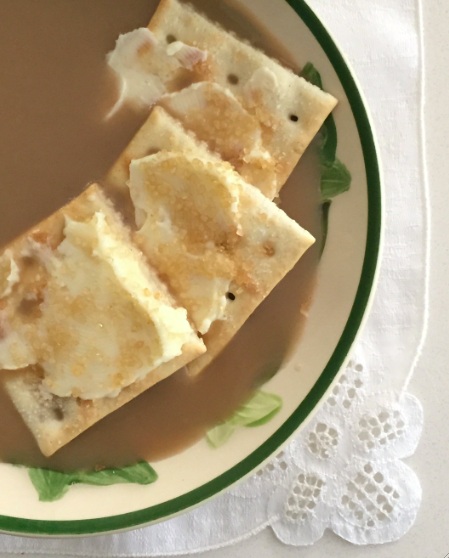 I think this old-fashioned recipe should be the next big thing. It does have some rather odd ingredients like butter, sugar, coffee, and crackers, but I just tried it again and it was delish!
My Mom and Grandma Martha would make coffee soup for me on weekends or if I was sick or I think when we had nothing else. I totally forgot about it, then the other day my Mom and I got to talking about funny things like coffee soup and milk toast (basically the same thing except with milk and toast). I think everyone should try this once. Don't be afraid, it's good!
Hot coffee the way you like it, I like mine with a little cream.
6 to 7 saltine crackers, buttered.
Arrange buttered crackers in a shallow bowl, sprinkle with sugar.
Pour the coffee over the crackers almost to cover.
Serve.